NEW MEMBERS
Bob Knockenhauer 631-277-2872, is accepting applications for new members.
Contact Bob for applications and screening information.
Appropriate attire is requested for the Shamrock Degree.
Application Form

PLEASE PRAY FOR
The victims and the surviving members of families of the
World Trade Disaster and associated terrorist acts.
Please pray for:
PRAY FOR THE SICK:
In the event of sickness or a death in the family, please call the Hall at 581-9317 and leave a message.
Chairman of the Committee on the Sick: Bob Knockenhauer
or, Missions and Charities Chairlady Tricia Cellan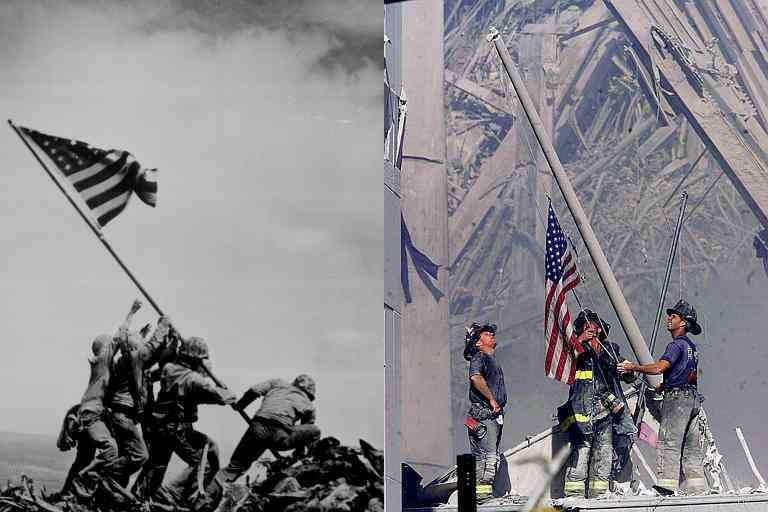 DIVISION 7 DUES
Dues for 2022 are now due.
The 2022 dues cards are in, including those for new members
that just made their Shamrock degree in November.
The 2022 dues are $100.00 if paid by March 17th East Islip Parade. After the parade it is $120.00
Your dues can be paid in any of the following 3 ways:
1) Before or after our monthly meetings, you can bring your
dues payments up to the front table.
2) You can mail in your dues payments to:
A.O.H. Division 7
ATTN: Kevin Smith
65 Champlin Ave.
East Islip, NY 11730
3) You can put an envelope with your payment in the "GREEN
DROP OFF MAILBOX" in the pub.
Please, remember to always provide your A.O.H. membership
number from your current card (5 digit number).
Any questions regarding dues please contact
Kevin Smith
Any member that cannot afford the dues, see the Division President.

DIVISION 7 SCHOLARSHIP
If you have a high school student that may be eligible for an award see:
Tom Davis
for applications.
(516-850-1342)
All applications must be in by April 1, of the graduating year.
High School graduation and SAT June scores are essential.
Applications are self-explanatory.
NEW YORK STATE AOH
SCHOLARSHIP INFORMATION
New York State AOH offers a scholarship to a current High School Senior.
Is there a member of your family who is graduating from High School this June? The New York State Board generously awards the Austin V. Carew State Scholarship each year to a deserving student whose parents/guardians are active members and who have taken their Major Degree. The student must sit for our scholarship exam which tests knowledge of Irish History. In addition the student's SAT scores are also considered in determining the recipient of the scholarship. Enclosed you will find the necessary information and application which must be completed for a student to qualify for the exam. If you have any questions, send me an e-mail message tomconway35@yahoo.com. Let's get the news of this scholarship out to all our members.
Some reminders:
1) Parents or Guardians of the student must have Major Degree.
2) Student must take our Irish History exam.
3) SAT scores must be provided.
4) Applications must be sent to the Scholarship Chairman by:
5) Information on the scholarship exam will follow upon receipt of application.
This scholarship is funded by the James F. Hayes Memorial Golf Tournament, which will be held in East Durham.
Application and Information (Adobe PDF )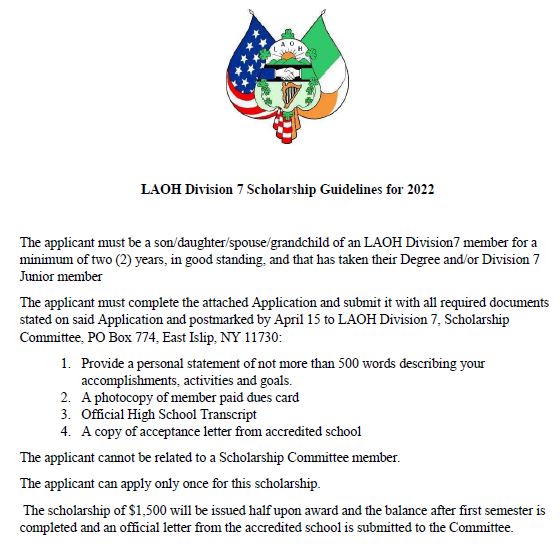 CLICK ON LAOH LOGO (Below) TO OBTAIN APPLICATION and GUIDELANDS


Check At Hall For Pricing, Availability, Styles and Sizes.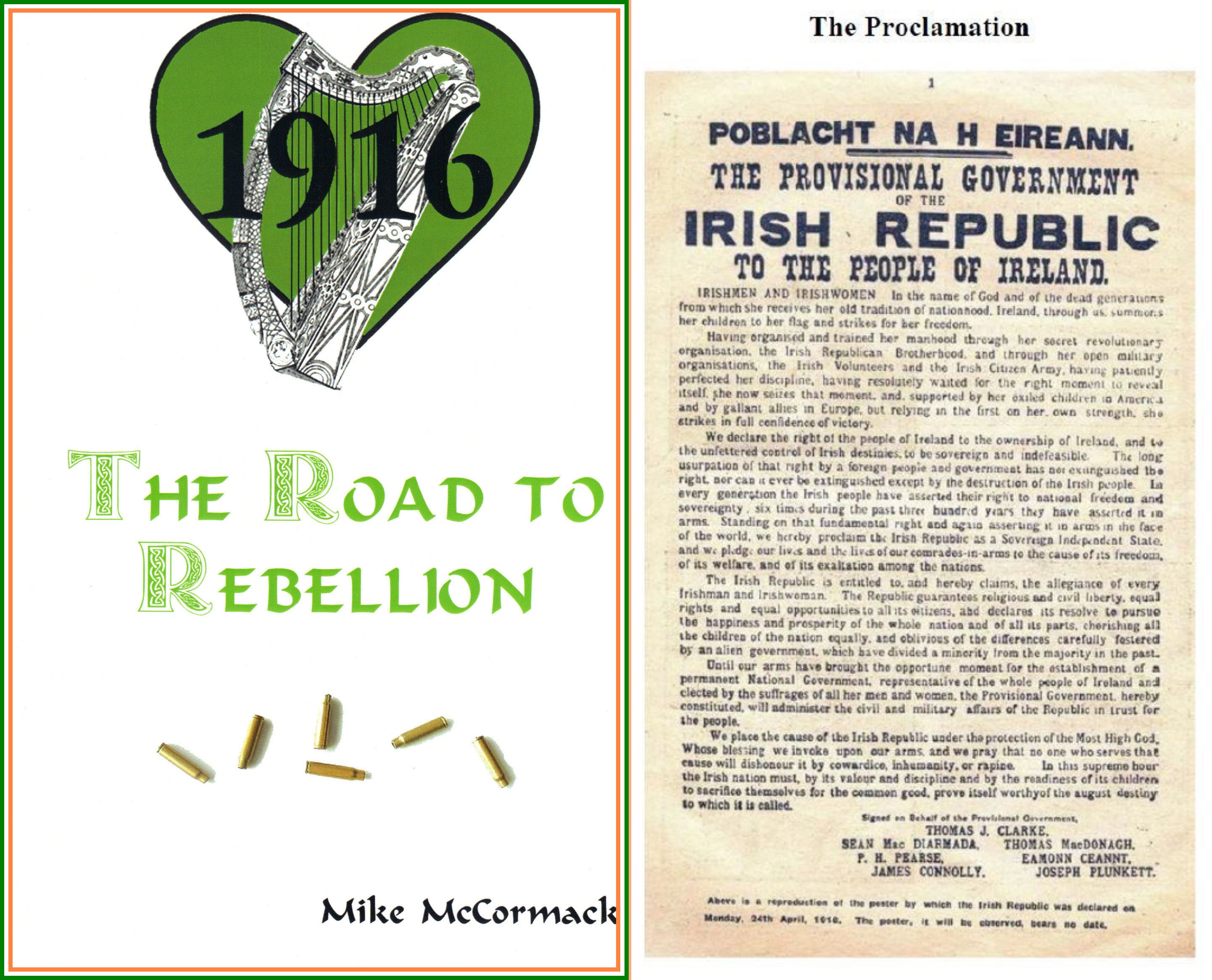 Mike McCormick, National Historian is selling this publication for $15.
Excellent reference document for school reports!

Links To Other Interesting Web Sites
DISCLAIMER
At certain places on this Internet site, live "links" to other Internet addresses can be accessed. Such external Internet addresses contain information created, published, maintained, or otherwise posted by institutions or organizations, independent of the Ancient Order of Hibernians, Division 7
The Ancient Order of Hibernians, Division 7 does not endorse, approve, certify, or control these external Internet addresses and does not guarantee the accuracy, completeness, efficacy, timeliness, or correct sequencing of information located at such addresses. Use of any information obtained from such addresses is voluntary, and reliance on it should only be undertaken after an independent review of its accuracy, completeness, efficacy, and timeliness. Reference therein to any specific commercial product, process, or service by trade name, trademark, service maker, manufacturer, or otherwise does not constitute or imply endorsement, recommendation, or favoring by the Ancient Order of Hibernians, Division 7.
The Ancient Order of Hibernians maintains the right and privilege to determine what links and information will be provided on this web site. Any complaints should be directed to the web master in writing at:
Ancient Order of Hibernians
Division 7
Our Lady of Knock
Att: Al Norton
65 Champlin Avenue
East Islip, New York 11730